It's early March and the Wedding season is almost upon us, it's always been thought that the height of Summer is the busiest time to get married but it seems that Spring is becoming more and more popular. So with many Brides getting close to finalising all their plans, I thought a few Bridal hair and makeup tips maybe useful.
There are so many fantastic resources now to be able to find your perfect look; Pinterest, Instagram and of course Facebook to name just a few, but it's a good idea to bear in mind and be aware that some images on these apps can be misleading. The use of filters, hair extensions and photo shop can misrepresent what can realistically be achieved when styling. I'd always suggest gathering a selection of varying images so that your hair and makeup stylist can create a unique look that's personal to you.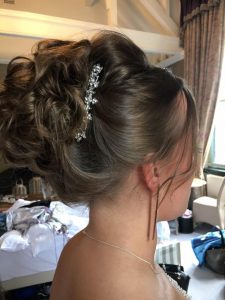 In terms of hair, I always advise any bride that I have booked and see on a regular basis for her appointments that we should not only grow some of her length but any layers that she might have cut in too. This will add extra body and volume to the hair and will make any pinned up style look its best. If you have a sweeping side fringe, it tends to be worthwhile adding some length to this aswell. Most brides with a fringe don't want their hair falling in their face all day but would like some pinned across. If your fringe is too short though it can be difficult to sweep the hair and hide the pins.
To ensure your skin is looking as healthy and radiant as it can, its always strongly advised not to book a facial too close to your Wedding Day. Your therapist will be able to give you specific advice but I would suggest at least a 3 to 4 weeks prior to the date. This will allow time for your skin to settle down afterwards. With that in mind, I also recommend that you don't' change anything in your normal daily skin routine as you get close to the date of your wedding. For example; avoid introducing new products in the final month or switching your washing powder.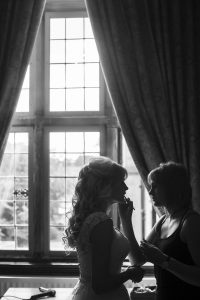 At your makeup trial you'll most probably be asked what colour you'd like for your lips. It may not be something you've already thought of, and although I have a variety of colours to choose from I'd generally recommend that you look at either using a favourite colour that you already have, or treating yourself to a new lipstick or gloss. This way you'll have it to reapply through out the whole day.
These are just a handful of hair and makeup Wedding Day do's and don't's, but if you have any questions or would like some more information or advice feel free to get in touch via email at charlotte@beautyinbloom.co.uk