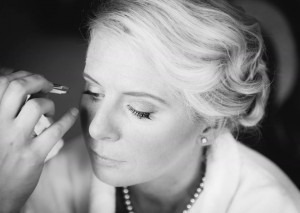 After brows, I figured it made sense to cover lashes, and with it always being a topical question for many brides to be I hope this post will help in your decision making. So whether they're real or not, we all want great lashes, and here is some advice and options that'll hopefully help.
I'd always recommend as a first step to achieving definition and fullness a simple eyelash tint, it is very affordable and available with most beauty professionals. All you would need is a skin test from the salon at least 24 hours prior to your treatment. This is also a great way to give that mascara look whilst away on holiday, preventing 'panda eyes' around the pool or during a hot summer evening.
To add some curl and lift, I'd suggest finding your local LVL specialist via Nouveau Lashes Salon Finder link. LVL stands for length, volume and lift and that's exactly what the treatment does, your professional will not only tint your lashes but perm them from the root too, giving them that ever so desired perfectly curled look.
If you want a little more there are a few options for false lashes, starting with a 'party lash' either a strip or individual clusters. These can be applied at home or by a professional, most makeup artists will be able to put these on for a little or no extra charge during a makeup session. A strip lash will usually last up to a 24 hour period and the clusters up to 3 to 4 days depending on the glue and your makeup remover used. Any oily based makeup remover will wipe away any unwanted lashes.
For a more permanent lash extension, a salon that specialises in SVS Nouveau Lashes (speed, volume and style) or their Extend treatment will ensure you get high quality lashes that last. The SVS lash treatment will take upto 45 minutes, whereas the Extend is a little longer at 90 minutes, both should last up to 6 to 8 weeks though, if the aftercare is followed correctly. The main difference between the two is the type of lash applied, SVS uses a superfine lash and the Extend treatment applies top quality individual lashes one by one to your own lash. In terms of price, this may vary depending on where you live.
If you do decide to book any of the above treatments always ensure to get all the aftercare advice needed and check that the professional is certified and using only the brand advertised products.
Finally for a little top tip of mine, here's how to get the most out of your eyelash curlers at home. Start at the base of your lash and clamp the curler together, next move to the middle and clamp again then finally towards to tip. Be careful not to nip your eyelid, but by using this three-step technique you will create a nice even curl throughout your lashes. For a slightly more stubborn lash or to get a bit longer out of your curl, try heating the curlers with your hairdryer. Always check the temperature before touching your eye, the metal gets very hot, very quickly and it can be easy to burn your lid! I generally use the back of my hand or inside of my wrist for this.
If you have any questions or need further advice on any aspects of lashes please get in touch; via email, phone or facebook, I am always happy to help.