Better late than never with this one, after a hectic October we've just about had time to catch up and re group before we gear up from Christmas 2019! Looking back though there were so many fantastic highlights and events last month I couldn't wait to share them with you.
It all kicked off with the 'Nimue Inspirational Road show' hosted by Sweet Squared at Malmaison Leeds. Wow, this was such a fabulous day and truly was inspirational. We were lucky enough to be given a presentation from Shane Franck, one of the Founder's and partners of Nimue, as expected focused around the skincare itself but combined with some interesting outlooks, advice and tips on ensuring to offer the best treatments and service to your clients. There was one statistic that particularly stood out for me, and is really very simple; 'by being positive and having a positive attitude, its proven that you are 37% more intelligent. And ensuring you have this positive approach around others you are influencing them to also be 37% more intelligent too'. How fantastic is this? The entire day was perfectly organised and I had the pleasure of meeting several other Nimue professionals, including Natalie who owns a very successful and gorgeous beauty salon in Birstall, Leeds, The Powder Room. I came away feeling motivated and loving Nimue, Skin Technology even more; ageing is a fact of life but looking your age isn't.
The following Sunday we were back at one of our favourite venues in the Yorkshire Dales, The Falcon Manor, Settle, for one of their beautiful wedding fairs. We love attending these events, it's such a great day meeting lots of 'brides to be' and all the other talented suppliers showcasing too. We met Matthew who owns Laserworks, he designs and creates some very unique and stylish stationery for every aspect of your wedding day; from save the date magnets (my favourite) to your table plan. There were also some familiar faces lying around, the photographer Andy Wade who we'd worked alongside on several weddings had placed some sample albums featuring a number of Brides we'd done the hair and makeup for.
To complete our non-stop month, on a very sunny Sunday morning we teamed up with multiple suppliers, handpicked by the lovely Laura from Wellies and Wifi, to shoot at Newburgh Priory. Emma Ryan captured the day along with Pinecone productions, who have recently given us a sneak peek at the photography and videos, all I can say right now is they are incredible….and I can not wait to share them with you!!!! The day would not have been possible without the rest of this superb team; we had wedding attire from Dandy and Threads, a gorgeous dress from Victoria Robson, jewellery from Jacqueline and Edward and a magnificent display of florals throughout from Dittany Entwined. These were perfectly complimented alongside the venue styling by Ambience Harrogate. We also had some incredible cakes by Where The Ribbon Ends, ribbons from Silk and Purl and stationery from Lone Tree. Once I get the go ahead, there is no doubt that I'll be posting these and you'll be able to take a look via our Facebook and Instagram.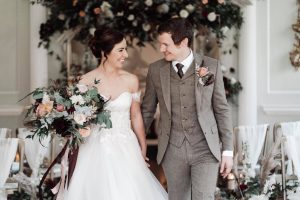 Until then, enjoy the festivities that December brings and look out for our Christmas post!!